3 Ideal Destinations to Date Ukraine Women in Poltava
Ukraine is a country that never falls short with wonders. From scenic natural marvels to astonishing historical attractions, you'll never run out of places to see and spots to visit in Ukraine. One particular destination in this country that stands out among lovers is the ancient city of Poltava. It's an ideal place for a romantic rendezvous with Ukrainian women due to its romantic and serene atmosphere.
Archaeologists claim that Poltava has existed as early as the 7th century B.C. It also prides itself on being one of the greenest cities in Ukraine. It is home to beautiful parks where you can take romantic walks with Ukraine women. Oh! And did we mention that women in Poltava are some of the most beautiful women in Ukraine?
A handful of beautiful Poltava women will certainly catch your attention while walking down the streets of Poltava. These women are also fond of foreign men, so you'll most likely take a few out on a date during your stay. Thus, we've listed some of the best spots in Poltava to take your Ukraine woman out for a date in:
1. Field of the Great Poltava Battle
Poltava has stood witness to some of the most pivotal moments in Ukraine's history. One of the most prominent and historically significant events that took place in this city is the Great Poltava Battle in 1709.
This battle between a coalition of Cossacks together with the Swedes against the Russian army of Czar Peter 1, established Russia's prominent position in Europe which consequently caused Ukraine's decline. The battlefield where this skirmish took place is now one of the most notable landmarks in Poltava.
Visiting this historically significant place is the best way to understand this city's heritage. When you go out for a date in this location, getting a guide is recommendable. This area is so massive that you'll need someone familiar enough of the place in order for you not to get lost. It'll also make the whole experience a lot better having someone with historical knowledge walk you back in time.
2. Ivanova Gora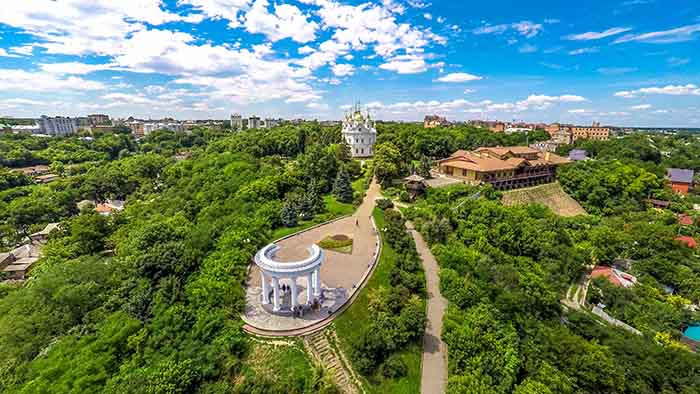 Ivanova Gora, which literally translates to Ivan's Mountain in English, is a hill that towers above the Vorskla River and provides a scenic view of downtown Poltava. It is also where a complex of historical landmarks is situated.
The most notable structure adorning the picturesque trail is a beautiful white Belvedere which provides an unobstructed 360-degree view of Poltava. The scenic view alone makes for a very romantic atmosphere that's perfect for a date with Ukrainian women.
Built in 1909 to commemorate the 200th anniversary of the Battle of Poltava, the original structure was later demolished to serve as an artillery observation post. In 1954, a horseshoe-shaped belvedere was built in its place and was named the Rotunda of People's Friendship.
This is definitely a site that you shouldn't miss seeing with Ukraine women.
3. The Exaltation of the Cross Monastery
The Exaltation of the Cross is a monastery complex in Poltava composed of three churches -- the Exaltation Cathedral, Trinity Church and Simeon Church -- all with historical and national importance. The Exaltation Cathedral, however, is the main church of this architectural ensemble.
Built in the late 17th century, the Exaltation Cathedral stands out with its uniquely beautiful design. It was built in the Ukrainian Baroque architectural principle.
Taking Ukrainian women out on a date in one of Ukraine's most important cultural landmarks is definitely something that you should strike off of your bucket list.
---
The Field of the Great Poltava Battle, the Ivanova Gora, and the Exaltation of the Cross Monastery are three of the most romantic places in Poltava where you can take Ukrainian women out on a date to. A romantic rendezvous with a Ukraine woman in any of these sites will surely be an experience unlike any other.
With Poltava's significance in Ukraine history and culture, there are a number of other historic monuments and architectural marvels dotting the city. You basically just have to pick your poison. But regardless of where you take your Ukraine woman to, you'll never have a dull moment together in the city of Poltava.

Newest, beautiful, single women now added for week of Wednesday, 29 November, 2023 - Tuesday, 5 December, 2023
Your opportunities here are truly worldwide. Explore our site deeply to see how you can realize that!